It started as a joke and it's not even out yet but Adam Mansbach's expletive laden children's' bedtime tale is already at the top of charts, selling more than 100,000 copies in pre-orders since it surfaced as a pirated pdf less than a month ago.
This tongue-in-cheek bedtime book for parents was the sleep-deprived brainchild of novelist Adam Mansbach who, frustrated at trying to get his own daughter to nod off night after night, joked to friends that his next book would be called "Go the F**k to Sleep".
He meant it as a joke, but soon realised that he was on to a winning idea with Akashic Books taking an interest. Originally due out in October, the book became famous when a pirated PDF of it went viral and hit a chord with tired parents everywhere.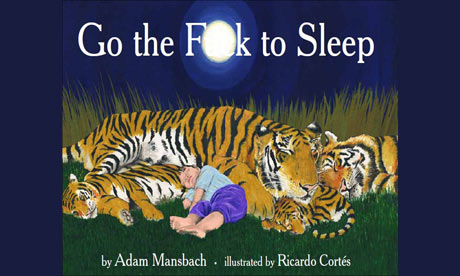 Not that you are meant to use the book to send your little ones to the land of nod.  Contrasting cutesey ryhmes and stunning illustrations by Ricardo Cortes with exasperated and exhausted profanity, it's "definitely not a book to read to your child", said the publisher in an interview with The Guardian, but "it will resonate with anyone who has ever spent 20 minutes, 40 minutes, four hours reading 'just one more bedtime story'."
For something that started as a joke, it's doing pretty well in the real world. Pre-order sales of the books have taken the top spot on Amazon.com's bestseller charts before it was even officially released, film rights have been optioned by Fox and the book has sold more than 100,000 copies in pre-orders since it surfaced less than a month ago. It's easy to see the appeal, if you just read one of the sample verses. (Profanity has been carefully occluded, but you can use your imagination. The writer certainly does.)
The cats nestle close to their kittens now.
The lambs have laid down with the sheep.
You're cozy and warm in your bed, my dear
Please go the <bleep> to sleep.
Joel over at BookU has already written at length about the book, and the implications that it has for evaluating the effects of piracy on book sales, but mainly I'm hoping that it will set off a spate of other books that I have longed for since people joked about them.
Chief amongst those is a books of poetry by cats, called "I Could Pee on This", but there are plenty of other fictional books that I'd like to take a look over. JK Rowling has already published one such book that was originally just a fictional book, the Tales of Beedle the Bard. Maybe it could be the coming trend?
Wikipedia has a massive list of books mentioned but not yet penned, but my vote for the first one I'd like to see off the press has to be an actual copy of the Hitchhikers Guide to the Galaxy, complete with DON'T PANIC written in massive letters on the front. Which is advice that the poor parents currently reading Go the F**k to Sleep could probably do with.