Little People is a historical novel and suspense story, a vivid re-imagining of General Tom Thumb and his troupes 9-month tour of Australia, complete with showbiz rivalry, mysterious secrets and love affairs aplenty. I caught up with its writer, Jane Sullivan, to ask her to peel back the curtains and show us what happens backstage.
Little People is loosely based around real events and people. What attracted you to this?
Reading a biography of a Victorian writer, Ada Cambridge, years ago that mentioned very briefly that the floods of 1870 held up the troupe of the midget General Tom Thumb as they were traveling around Victoria in their touring show. I imagined a little man jumping up and down on the roof of a carriage stuck in a flood, and for some reason the image transfixed me.
When did you realise you had a story to tell?
I knew next to nothing about General Tom Thumb, but slowly I began to read and collect information. The turning point was probably when I realised that their tour of Australia took nine months – which could also be the length of a pregnancy. So I conceived (no pun intended) the idea of a pregnant woman, Mary Ann, as the narrator and heroine of the story and the focus of quite a few mysterious desires.
What was the most enjoyable aspect of writing this book?
I think I probably enjoyed the research most – it was such fun, so exciting to keep "discovering" the little people in different places, and I didn't have to worry about whether the writing was working. The part of the writing I enjoyed most was the Sideshows in the little peoples' own voices, it felt like stepping into their shoes.
Did you find researching it easy? What sort of tools did you use?
Not as easy as it would be now: there was no Wikipedia when I started and nothing much on Google. I scoured library data bases and came up with a number of books that mentioned the little people, mostly in the context of their mentor, the great American showman P.T.Barnum. I did a lot of research in the State Library of Victoria and made a trip to Canberra to the National Library to read an account of the world tour, including Australia, written by the tour manager, Sylvester Bleeker. (see the Further Reading list at the back of the book for the main books I consulted).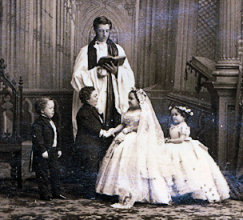 Another really helpful thing was the microfiche copies in the State Library of 1870 newspapers and journals in Australia that reported on and reviewed the little peoples' shows. Here I discovered that they were mobbed by crowds everywhere they went; and that Commodore Nutt was the crowd favourite, considered a great comedian, while Tom Thumb was a bit of a pompous has-been by then. That, I was sure, would have made him really cross and rekindled old rivalries.
Despite all the information about the little people, it was hard to tell what they were really like: they seemed always to have been putting on a performance. But this freed me up to use my imagination and construct fictional characters who seemed consistent with the real historical people.
What tips would you give to writers considering writing novels with a firm base in historical events or real people?
Research the characters and the events and the period for a while until you have a real feel for it and you're bursting to start writing. Then write. Then go back to your research and check all those little details you need to know. Then write again. And so on. If you do too much research, you never start writing. If you write too much for too long, you get too far away from your material.
Don't worry if it starts taking off in ways you didn't anticipate – it's fiction, you can make things up! Just make sure it's believable and consistent for your reader.
How did friends and family react when you told them what you were writing about?
I had very mixed reactions. Some people were thrilled and delighted by the idea of a story about a troupe of little people touring Australia. But a few people honestly couldn't see at all why I was attracted to it. I hope those people change their minds when they read the book! I'd like readers to think of this book as like watching a show – the curtains sweep open, the performers appear. I'd like everyone to be caught up in the show and laugh and cry and get fearful until the curtain closes again and we can all go home singing the tunes.
Jane Sullivan has worked as a reporter, feature writer and editor. She won the inaugural Australian Human Rights Award for journalism. She writes a Saturday column, 'Turning Pages' for The Age. Little People is Jane's second novel, published by Scribe Publications and shortlisted in the CAL Scribe Fiction Prize.