I love short stories so much, that one post just wasn't enough. So here I am, with my second post about them.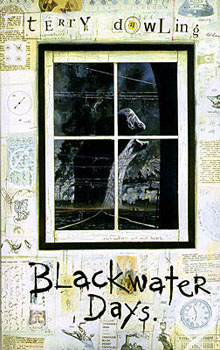 Last time I mentioned Neil Gaiman and Peter Ustinov as two of my favourite story writers. Let me now add Aussie author Terry Dowling to that list. He writes science fiction and dark fantasy with an absolutely unique style and approach. I have had to read some of his stories a second or even third time before finally having things click into place. Don't let this put you off. Each and every story of his that I have read has been well worth the effort. Many of his stories are connected, dealing with the same characters and settings. He is probably best know for his Tom Tyson stories, amazingly vivid tales sets in a future Australian landscape, collected in four volumes — Rynosseros, Blue Tyson, Twilight Beach and Rynemonn. But my favourite of his stories are those collected in Blackwater Days, all set in an around the Blackwater Psychiatric Hospital, which begin with the following line:
"When shadows move in Casna Park and the wind is in the trees, I can't help but see it as the most terrifying place in the world."
To find out more about Terry Dowling, check out his website.
Although my latest book is a novel, I began my writing career with short stories. My very first book, published way back in 1999 (and now sadly out of print) was a collection of YA stories about life in high school, Life, Death and Detention. Even my current novel, Gamers' Quest, is connected to short stories. It is based on "Game Plan", a short story published in Trust Me!, a YA anthology edited by Paul Collins. After the novel was complete, I went on to write a further two stories about some of the characters, for the book's website.
Last year, I had a story called "Photographic Memory" appear in the first issue of [untitled]. Early this year I had the great pleasure of launching the second issue. Now, as [untitled] prepares for its third issue, publisher Blaise van Hecke has dropped by to tell us a little about this mag.
I'd thought about starting up a writers' magazine but soon put the idea away as being something too hard for one person. But when Les Zigomanis came to me at the end of 2008 and made the suggestion, I was more than willing to give it a go.

[untitled] was born as a forum for storytelling and a way for new and emerging writers to have a voice. This is our mission statement:

[untitled] has no pretentious literary aspirations. Nor is it on a crusade to ennoble some ethereal literary collective, or enrich the community – literary or otherwise. It doesn't really want to change the world – sorry, but it doesn't. Because for as unique and enlightened and even sublime as that endeavour would seem, it's all been done before, it's all been tried before.

It just wants to be about stories.

It wants you to forget every manner in which you've been conditioned, and remember what it's like to read, to enjoy, and to escape.

The physical form of [untitled] is what has set it apart from other writers' magazines that are on the market. Firstly, it isn't actually a magazine because it's pocket-sized and it has no articles or non-fiction. Call it a journal if you will.

I like to call it a pocketbook.

[untitled] is run purely on the goodwill of talented editors, led by Les Zigomanis, who give up their valuable time to read submissions and give diligent editing advice to new writers, all for no remuneration. We hope this changes as our reputation grows. With two issues out in the marketplace, we've come a long way in a short time. Our goals are to be able to pay the editing team and of course the writers for their stories.

In the meantime, the printing of the publication is funded by our business, Busybird Publishing & Design. Kev (my husband) and I do the entire layout and design. It's very much been a matter of 'pay the printer and cross our fingers that we make the money back'.

All that hard work is very gratifying when we get continued respect and comments on the publication (both its physical form and the quality of the stories). This is what Kalinda Ashton, recent recipient of the SMH Best Young Novelist 2010 and author of The Danger Game, has to say about it:

"[untitled] is a desperately-needed place and space for short stories at a time in Australia when most publications are eschewing that form. Courageous, curious and an admirable project".

Now that we've had a taste for the publishing racket, we've got other ideas for future projects. Currently, we're writing up a proposal for a book called 'Journey' which will be a collection of stories from men and women who've had experience with breast cancer. We'll be calling for submissions soon and we're aiming to have this out in October 2011.
Thanks Blaze. For more info about [untitled] and for submission guidelines check out the website.
And so, dear readers, this brings us to the end of the short story posts. All that's left for me to do is ask you who your favourite short story writers are? Leave a comment and share your opinions.
And tune in next time to find out what I've been reading lately.
Catch ya later,  George