What better way to start off my angel/demon extravanganza than with the words and advice of a New York Times bestselling author, who has a penchant for writing books about incredibly attractive Archangels and making me fall in love with them.
Angels' Blood is the first book in Nalini Singh's new Guild Hunter series, and Book 2, Archangel's Kiss, has been just been released in Australia. To serendipitiously coincide with this, Nalini is heading down under to be a special guest speaker at the Australian Romance Reader's Award Dinner, on 15th May 2010 at Cello's Restaurant, 169 Castlereagh St, Sydney.
And not only will Nalini be presenting, but she's also nominated for four awards! Favourite Paranormal Romance:Blaze of Memory and Branded by Fire; Favourite Sci-Fi, Fantasy or Futuristic Romance: Angel's Blood; Favourite Continuing Romance Series: Psy/Changeling series. Congrats, Nalini!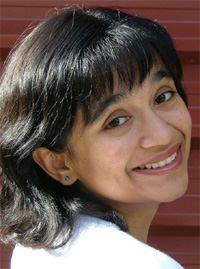 Now, on with the interview:
Nalini, I have just finished Angels' Blood and absolutely loved it, and can't wait to begin on Book no 2 in the series. But first, let's get properly acquainted. Can you give us a bit on your writing history/books published to date?
I'm so glad you loved AB, Aimee!
My first book, "Desert Warrior" was a short contemporary romance for Silhouette, published in 2003. I wrote six books for Silhouette overall. In 2005, I sold my first paranormal romance, Slave to Sensation, book 1 in the Psy/Changeling series, to Berkley Sensation (it was obviously meant to be :-)). I've been writing paranormals ever since.
The 8th book in the Psy/Changeling series will be published in July, while I'm currently hard at work on the final draft of the third Guild Hunter book. Books 1 & 2 (Angels' Blood & Archangel's Kiss) were released down under in May, and I'm very excited about that.
Your Guild Hunter series has a pretty feisty protagonist in Elena, the vampire hunter. Was it important to you to have a female protagonist that wasn't 'flighty' or in constant 'damsel in distress' mode?
Absolutely. I enjoy reading strong heroines – but it's also important that they're smart. So Elena while she knows her own strength, also knows her weaknesses. Even when she's standing up to Raphael, she's very aware that she's taking a chance, that she has no hope of surviving him if he decides to destroy her. That understanding is critically important to who she is as a character.
Please tell me the Archangel Raphael is modelled on a real person? Or perhaps exists himself? I'm in love!
Alas no! He is as I saw him in my imagination – and from the start, he was this incredibly vivid character.
What made you decide on New York as the setting for Angels' Blood, and China as the setting for Archangel's Kiss?
What sparked the GH series was this image I saw in my mind one day – of an archangel in a tower high above a city. And the city was New York. It just fit so naturally – I didn't really make a conscious decision about basing Angels' Blood there.
As I wrote Angels' Blood, I began to get a glimmer of where things might go in Archangel's Kiss. I'd been to the Forbidden City several years ago, and when I thought of a location within China, that was the one that immediately came to mind. It had the majestic quality, the history, the beauty, everything needed for those particular scenes / that aspect of the story.
In the series, Elena 'hunts' the vampires to return them to their Archangel masters. It's interesting and unique that you've managed to portray the race of vampires as submissive, rather than the dominant, almost omnipotent characters we're used to in modern paranormal fiction. So, are angels really the new vampires?
That's an interesting question – when I pitched and sold Angels' Blood, there weren't really many angel books in this subgenre. So at the time, I was going out into the unknown. Now, of course, there's been a definite rise in them. But, at the same time, I haven't seen any decline in vampire books – I think there's enough room for both.
How personal is your writing? Do you see parts of yourself, for example, in Elena?
I think as a writer, I often look into myself as I write, but not in a biographical way. For example, while writing a scene where Elena is angry or delighted, I might think back to a time where I felt that way – and try to bring that emotion to the page. But how Elena reacts to any particular situation is based on her character, not mine.
Imagine you were given Archangel wings for a day. What would you do?
Fly, just fly. The idea of being able to soar across the world is so powerful – I'd stay in the sky all day!
And what can we look forward to in Book 3 (give us some juicy semi-spoilers if you can)!
GH #3 returns to New York, so we're going to see the world's reaction to Elena's change (trying not to spoil things for folks who haven't yet read Angels' Blood). Raphael's Seven make appearances, as do Sara, Ransom and Deacon.
As for a plot spoiler…hmm…let's just say that some nightmares are very much real.
***
Ooh. *Shudder*. Sounds scary.
Stay tuned for part 2 of my interview with Nalini Singh, in which she tells us what books she's reading right now, and the best piece of writing advice she's ever been given. In the meantime, you can access Nalini's website and keep up to date with her latest happenings!